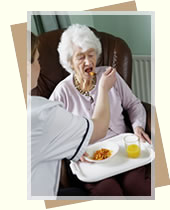 Silva Board and Care is where your beloved ones can experience the quality of life they richly deserve in the twilight of their years.
Set in the serene and secure surroundings, you can rest assured that your loved ones will be given personalized and efficient care, in an atmosphere of trust, respect and compassion... just like in your family.
Silva Board and Care is owned, managed and operated by a state licensed administrator. The staff is composed of highly qualified and carefully selected individuals. Each caregiver is carefully screened through a multiple reference and a criminal background check. Above all, our caregivers are competent, conversant and compassionate.
Elderly Care is specially designed to answer care needs of the fragile health of your senior family members. Silva Board and Care is committed to making their retirement comfortable.
Read more »